Light Steel Framed Storage Buildings: Versatile, Durable, and Secure
Are you in need of extra storage space? Perhaps you're envisioning a chic "She" Shed or a functional greenhouse in your backyard. Whatever your needs, our range of Storage Buildings is designed to cater to them all.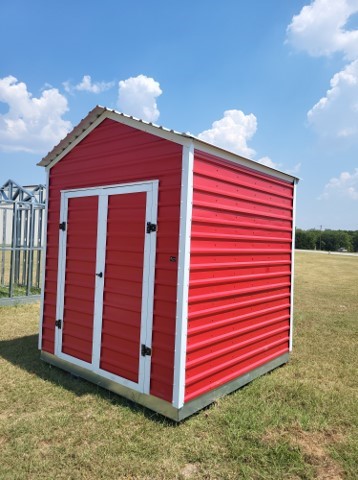 Our Light Steel Framed Storage Buildings are designed to provide a flexible and reliable solution for all your storage needs. Whether you require extra space for your business inventory, equipment, or personal belongings, our buildings offer a secure and functional solution that can be customized to meet your specific requirements.
Constructed using high-quality light steel frames, these buildings are known for their exceptional strength and durability. The steel frames provide excellent resistance against harsh weather conditions, ensuring the longevity and structural integrity of the storage facility. With a focus on precision engineering, our buildings are manufactured to meet the highest industry standards, delivering peace of mind and reliability.
We understand the importance of versatility, which is why our Light Steel Framed Storage Buildings can be easily customized to suit your unique storage requirements. From small storage sheds to large-scale warehouses, we offer a range of sizes and configurations to accommodate your needs. Whether you need additional doors, windows, or specialized features, our team will work closely with you to create a customized solution that perfectly matches your specifications.
In addition to their robust construction, our storage buildings are designed to be user-friendly. The open interior space allows for easy maneuverability, maximizing storage capacity and providing convenient access to your stored items. We also offer optional insulation and ventilation systems to maintain optimal conditions for temperature-sensitive items.

Specifications:
Construction:

High-quality light steel frames for superior strength and durability

Precision engineering for structural integrity and longevity

Resistant to harsh weather conditions

Customization:

Range of sizes and configurations available

Option to add doors, windows, and specialized features

Tailored solutions to meet your specific storage requirements

User-Friendly Design:

Open interior space for easy maneuverability and maximum storage capacity

Optional insulation and ventilation systems for temperature control

Security:

Sturdy steel frames provide a secure storage solution

Option to add locking mechanisms for enhanced security

Durability:

High-quality materials and construction for long-lasting performance

Resistant to rust, corrosion, and pests

Easy Installation:

Quick and hassle-free assembly process

Clear instructions and support available for installation

Storage Building In-Stock Pricing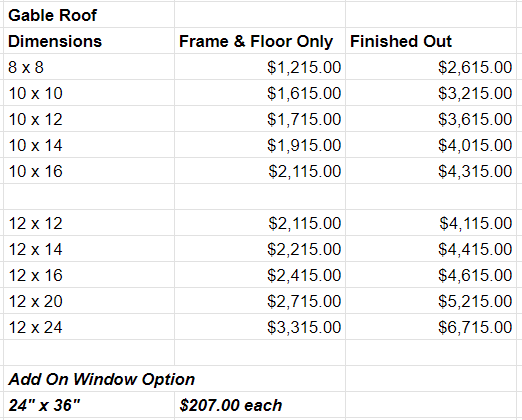 *Finish out with Sheet Metal exterior and plywood interior with your choice of several sheet metal colors.  Contact us to learn more.
Invest in our Light Steel Framed Storage Buildings to secure your valuables, streamline your storage operations, and gain peace of mind. Contact us today to discuss your storage needs and explore the possibilities of our versatile and durable storage solutions.